For almost a decade, Trigyn has been helping government and private sector clients realize the benefits that data-driven management can bring to the delivery of services, management of facilities, and the consumption of resources. With more than 50,000 sensors integrated into client projects, Trigyn is proud of its track record of success implementing Smart Cities and IoT projects spanning security, transportation, municipal services, utilities, facilities management, and other areas.
Trigyn's Smart Cities practice was built on the foundation of integrating best in breed technologies, available in the marketplace, to achieve client objectives. Early on, we became acutely aware of the challenges posed by disparate platforms and standards, and the cost and complexity they added to Smart Cities and IoT implementations. This spurred Trigyn's embrace of open-source standards, which lead to Trigyn becoming a platinum sponsor of FIWARE.
Trigyn has since successfully implemented a wide range of projects based on FIWARE open-source standards.
Trigyn has established our Smart City & Internet of Things (IoT) Center of Excellence with a focus on Unified Command & Control Centers, Smart Utilities, and Security & Surveillance. Trigyn's experience in Smart City solutions is based on successful project implementations and pilot programs spanning various Smart City Elements. Trigyn has established a model for a Unified Command Control Centre for emergency response and city services management leveraging an open-standards framework. The model includes support for Geographic Information Systems (GIS), IoT Integration, Key Performance Indicator Dashboards, and City Administration leveraging Standard Operating Procedures (SOPs) for Routine Operations and Emergency Response Management including Cross-Agency Collaboration.
Trigyn has adopted a partnership approach to Smart City engagements. By partnering with leading technology companies, Trigyn can bring forward best-in-class solutions aligned with our clients' unique business needs. Using this approach, Trigyn has evaluated and partnered with companies spanning Smart devices, Security & Surveillance, Smart Utilities and Emerging Technologies. To ensure successful project implementation of disparate technologies, Trigyn has established Smart City systems integration and managed services as core competencies of our internal team. Trigyn's partnership approach allows us to incorporate the latest technologies and approaches to bring forward leading edge Smart City solutions for our clients' unique challenges.
A centralized monitoring and operations center serve as a central point of management for the ecosystem of Smart Sensors and Controls. The Center typically includes capabilities to address a wide range of use cases including, most commonly, incident and response management, real-time analytics, and decision support system. Using open standards, the Command & Control System can be integrated with a wide range of OEM solutions for Surveillance, Public Address Systems, Environmental Sensors, GIS Systems, Smart Utilities and External Applications.
The diagram below illustrates the solution architecture and components for the integrated Smart City Operations Center leveraging the model of Unified Command Centre.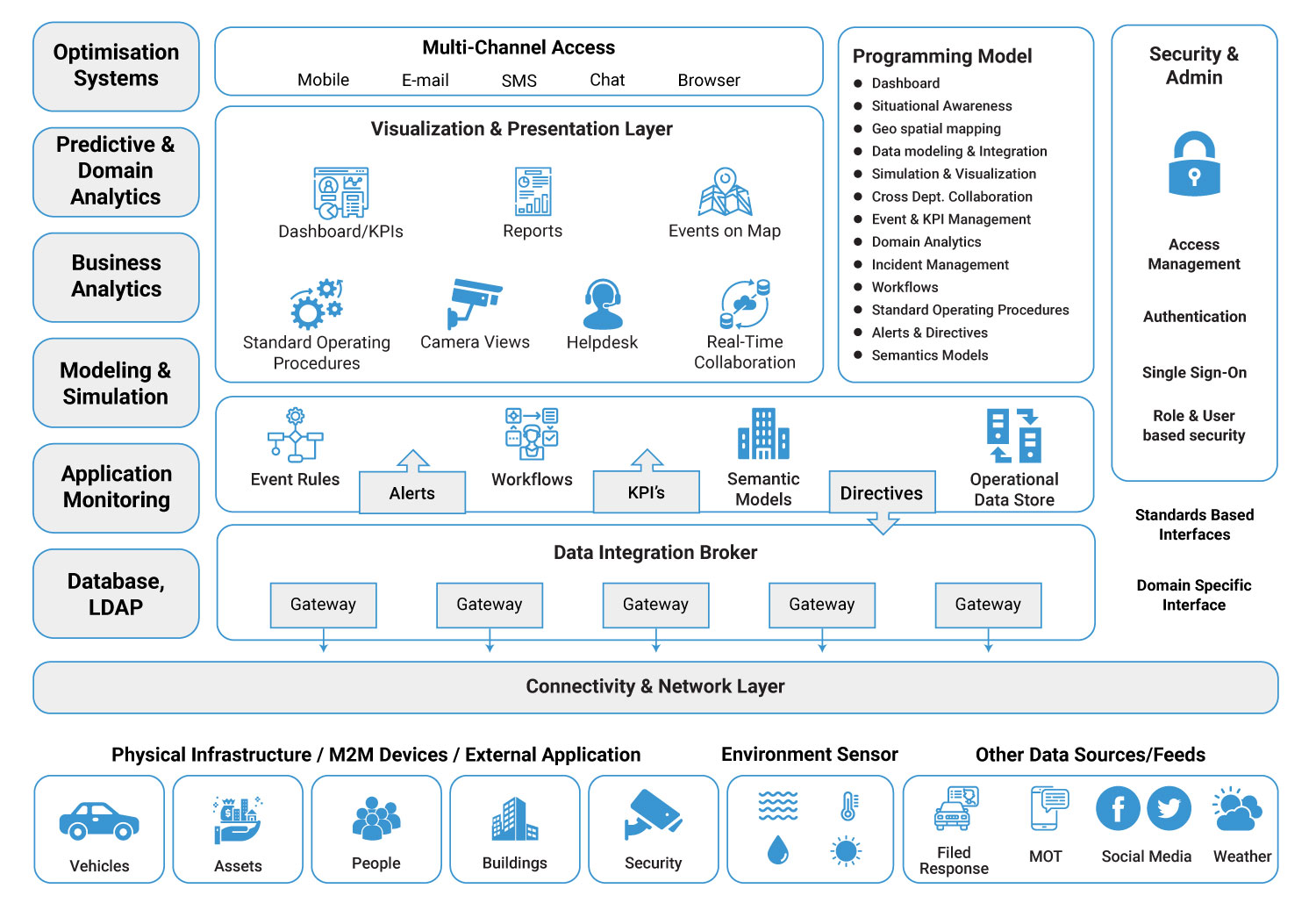 The Unified Command Centre will aggregate various data feeds from base systems and further process information out of these data feeds to provide actionable insights, alerts and notifications in near real time. A web based unified dashboard provides city management capabilities and help the operators to get a holistic view of the Smart City services.
The diagram below represents the overall solution framework for the integration of the Smart Elements with the Smart City Platform: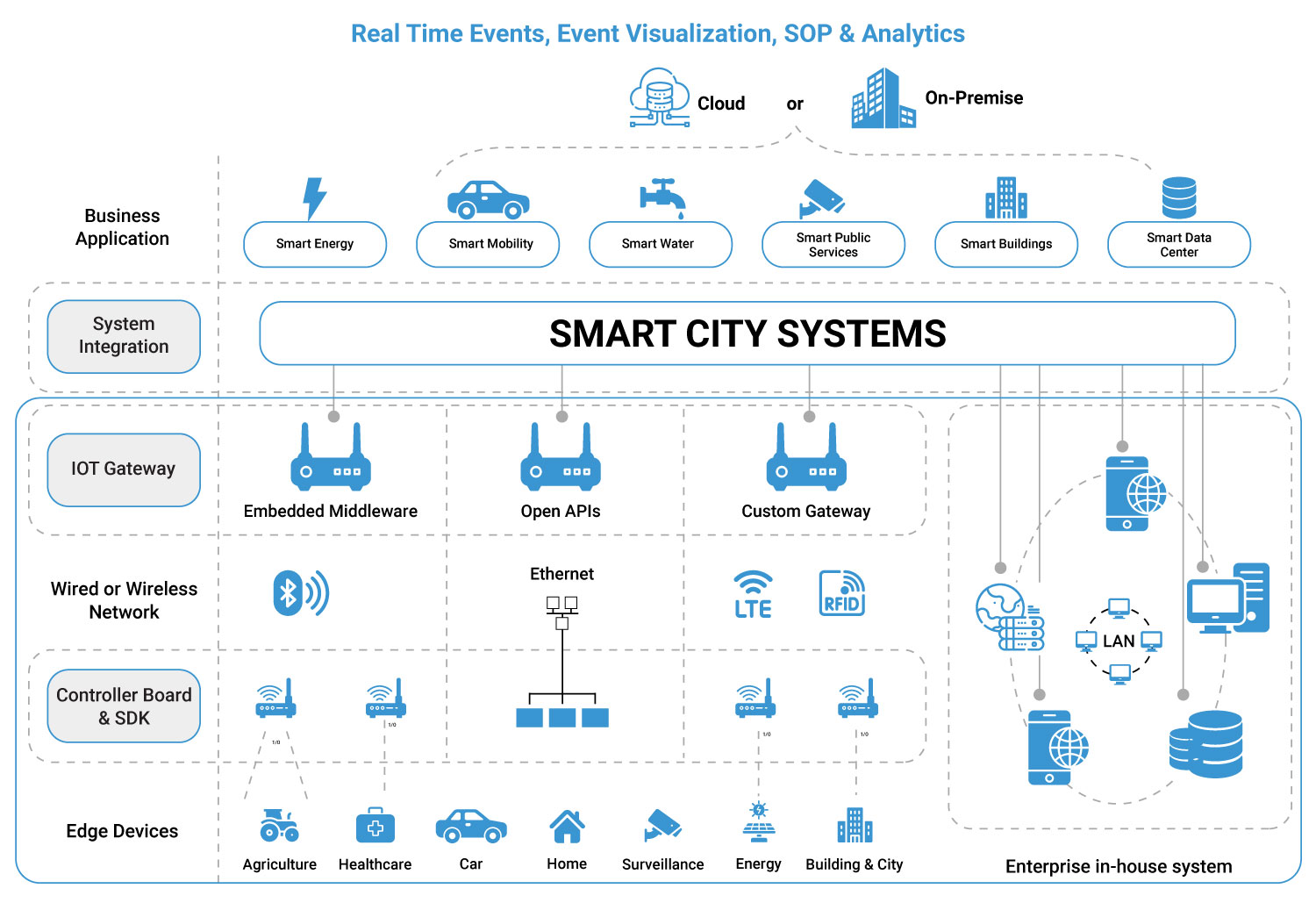 For more information about Trigyn's Smart City & IoT Solutions, Contact Us.