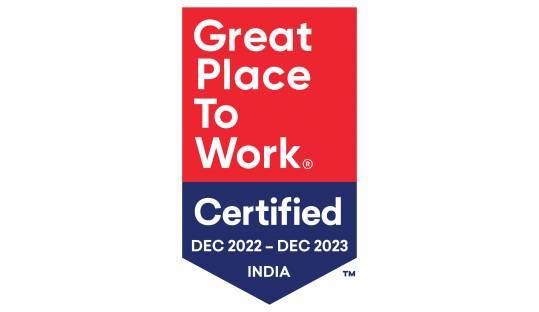 Mumbai, December 23, 2022 – Trigyn Technologies Ltd. has been Great Place to Work-Certified™ in India (from December 2022 to December 2023! Trigyn is committed to the wellbeing of our team members and their families. Trigyn has worked hard to create a dynamic, supportive, and inclusive work environment that prioritizes both professional and personal development and growth.
Great Place to Work® is the global authority on workplace culture. Since 1992, they have surveyed more than 100 million employees worldwide and used those deep insights to define what makes a great workplace: trust. Their employee survey platform empowers leaders with the feedback, real-time reporting, and insights they need to make strategic people decisions. The Institute serves businesses, non-profits and government agencies in more than 60 countries and has conducted pioneering research on the characteristics of great workplaces for over three decades.
According to Trigyn CEO, Dilip Hanumara, "Trigyn believes the success of our business will only be possible if our employees are successful. This certification is a testament to the holistic approach we have taken to ensure our employees are not only well compensated, but also well cared for."
Learn more at https://www.greatplacetowork.in/ and on LinkedIn, Twitter, Facebook and Instagram.
For more than 35 years, and spanning more than 25 countries, Trigyn is the trusted enterprise digitalization partner of governments, intergovernmental organizations, public sector entities, and private corporations.  Trigyn is ISO 9001:2015, ISO 27001:2013 (ISMS), ISO 20000:2018, and CMMI Level 5 certified. Trigyn maintains long-standing industry partnerships with Microsoft, IBM, SAP, AWS, Oracle, and other industry leaders. 
For more information about Trigyn technologies Ltd. visit, www.trigyn.com.